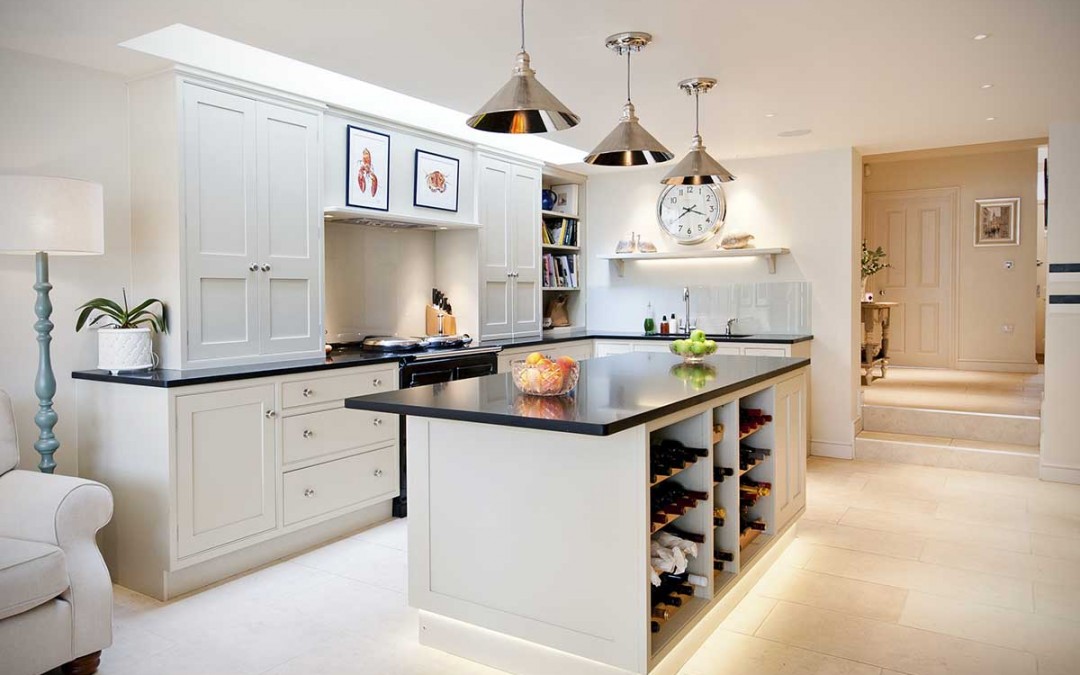 All Shaker kitchens feature simplistic square-framed designs which can give you plenty of versatility and make your kitchen extremely practical. Made with high-quality materials, fittings and hanging cabinets, your new shaker kitchen will have beautiful aesthetic symmetry which compliments the surrounding features in the rest of your living space. Your shaker kitchen can be crafted into any shape or size so that it will fit your individual measurements. There are also different features to choose from to help your kitchen run more effectively. With a good range of different cabinets, doors and drawers to fulfil your storage purposes, kitchen islands, worktop materials, peg rails and hand-painted designs; you will have plenty of choice and flexibility to create a shaker kitchen which is designed around you and your lifestyle.
Shaker kitchens are also known for being exceptionally durable and strong so they are a great choice for those looking for a kitchen which is built to last, sturdy and has the ability to withstand many years of daily heavy use. This strength is due to the combination of high-quality materials and fittings we use and precision craftsmanship. This combination is what makes your kitchen still function and look as good new further down the line. Here at Horner Roberts Ltd Dorset, our team of highly skilled designers and qualified craftsmen have extensive knowledge and experience in creating stylish and stunning classic shaker kitchens. Working closely with you throughout the design process, we will gather all of your kitchen ideas and determine your needs so that we can produce a high-quality kitchen which is tailored to your everyday requirements whilst still staying true to the traditional values that a shaker kitchen has to offer. Shaker kitchens are a clever investment for your home, not only will they increase value to your property but they also have timeless designs which still stay in trend for many years to come.
If you would like any more information about our Shaker Kitchens, please do not hesitate to contact us here at Horner Roberts Ltd Dorset. We will be happy to answer any questions about your upcoming kitchen project and look forward to helping you achieve a perfect shaker kitchen for you.
We currently cover Dorset and the surrounding towns and villages and look forward to hearing from you today.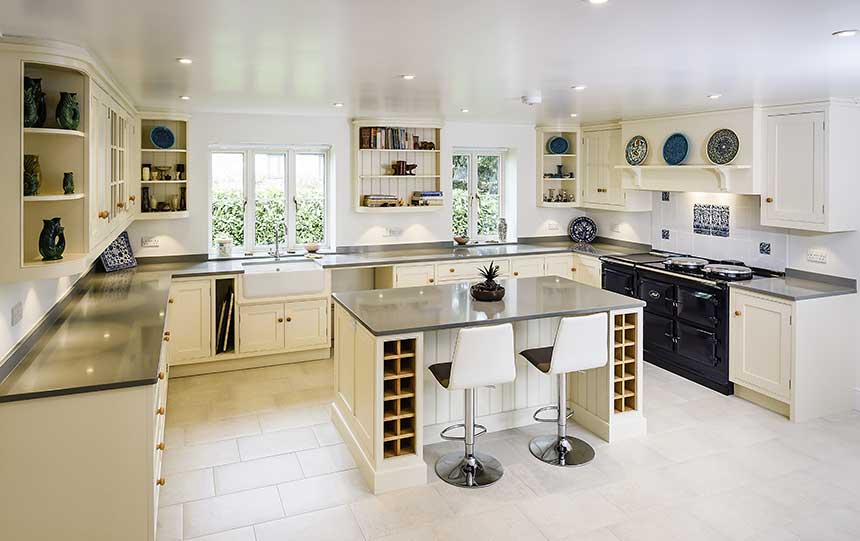 Traditional handmade kitchens are extremely practical and very durable, not only are they elegant and visually stunning but will have the functionality that you and your family need, this is why handmade is becoming a popular option with many homeowners now looking buy a new kitchen.
Handmade kitchens are made from scratch and are completely different from factory-made or factory-built kitchens, as they are and made with precision craftsmanship and close attention to detail. They offer the buyer complete freedom of design with an endless choice of shapes and sizes and specifications are no longer an issue as every part of your bespoke handmade kitchen will be unique. Almost all factory-made kitchens are limited in shapes, sizes and also styles to choose from which will not allow you to achieve your desired perfect dream kitchen.
Your new handmade kitchen will allow you to choose every individual element with your kitchen, with our designers so that it is unique and personalised to your everyday life Style, At Horner-Roberts Ltd Dorset we can provide you with a practical and visually stunning handmade kitchen which will meet all of your individual needs. No matter what sizes, designs, colours, materials and fittings you want, your personalised beautiful handmade kitchen will be tailored to meet every fine detail of all your individual requirements.
When you feel it is time to start browsing the web or searching for a traditional bespoke or handmade kitchen you may find that the majority of kitchen companies will offer you or promote high-quality handmade (bespoke) kitchens but most cases the kitchens they offer will definitely not be truly Bespoke or Handmade. A common misconception with people is that if you can customise your kitchen eg: choose your own kitchen materials, colours and furniture etc then it is handmade. This is clearly not true, for a kitchen to be truly Handmade or Bespoke it needs to be made from start to finish from scratch specifically to a customers order. A bespoke kitchen is so much more than customisation, it is a kitchen which is built from scratch utilising all if your ideas. Horner- Roberts Ltd Dorset works closely with yourself and your family with your ideas from start to completion and turning them into reality. The carcasses, fittings, storage solutions and shape of your kitchen are all truly bespoke to you. Your luxury handmade kitchen can be designed to fit into any space that you may have within your kitchen area and is crafted with ultimate precision and close attention to detail for the perfect flawless finish. We use raw, high-quality materials and precision craftsmanship, your new bespoke handmade kitchen will be flawless, smooth, elegant and tailored to your everyday needs and lifestyle.
If you are looking to have sleek and modern or a warm and traditional look, Horner-Roberts Ltd Dorset, we will discuss and then create you an elegant, beautiful and outstanding handmade kitchen especially for you. We Work closely with you from start to completion listening to your requirements through out the process and we will discuss all of your ideas and turn them to reality, ensuring we achieve the handmade kitchen you have always dreamed of. Our highly skilled team of craftsmen have many years of experience and knowledge, this will enable us to create your perfect bespoke kitchen down to the finest of details. All of our kitchens are handmade here in our workshop with high-quality materials and fittings to ensure that your bespoke kitchen is durable, strong, the finished kitchen will be made to be enjoyed and last for many years to come. Your handmade kitchen can be painted or stained and lacquered upon request for the perfect smooth finish.
Should you wish to discuss any of your bespoke or handmade kitchen ideas, then please do not hesitate to contact us here at Horner- Roberts Ltd Dorset where we will be happy to discuss your ideas, we cover Dorset and all surrounding towns and villages.